Height:6'1 Weight:195 lbs.
Name: Isaiah "Isaac" Vaelaroi


Age: 21


Race:Human


Allegiance: Behemoth


Deck Name: Strength Through Tradition


Deck Type: Rituals


Deck Master: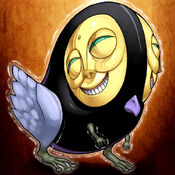 Ritual Raven
Once per Duel, if you would Ritual Summon a DARK monster, you can conduct the Ritual Summon by tributing only 1 monster you control (except Tokens).


Numbers: None


Appearance: (See above)


Personality:A very standoffish boy, Isaac can usually be found standing alone in a corner with his hood up and his arms crossed. He only speaks when he deems it necessary, and rarely laughs. This is not out of disinterest, but out of a lack of experience. He happens to be a decent hand to hand combatant, due to his father putting him into Jujitsu lessons, since he was six and him being an expert at it at age thirteen. He still practices routinely, but keeps his knowledge a secret. He can be quite emotionless when he's upset, and will show no mercy to any one who violates his idea of moral decency. He absolutely detests people who treat others poorly for no reason.
The Story Of Isaac Vaelaroi:

WIP