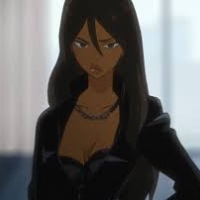 Name: Deja Venki
Age: 19
Race: Human
Allegiance: Leviathan
Deck Name: The Cursed Women
.
Deck Type: Deja's deck focuses on keeping her opponent's monsters at low attack so that her stronger monsters can easily come in for the kill.
- Reptilianne
- Venom
Deck Master:
Reptilianne Medusa=>Hydra
Reptilianne Hydra=> Vaski
Reptilianne Vaski
Numbers:
Appearance: Deja is a woman with dark brown skin. She has long black hair and usually carries a stern look on her face.
Personality: Deja is a very matter-of-fact person. She gets straight to the point and often leaves others away from her so that she doesn't make any attachments. Those that are able to actually get to know her see that she is a kind person and only wishes for peace.....no matter the cost.
Biography: Deja was born to a very wealthy family. The family she was born into was very determined in their goals. They did whatever it took to maintain their wealth but were not strangers to giving to those in need. Deja herself grew up as any normal child did. She attended school, played with friends and things of that sort. It wasn't until the death of her father and her mother falling into a coma that Deja had to take charge. Heading her family business she was entered into a new world where businesses relied on duels. Deja herself found out that she contracted an incurable disease. Its slowly killing her but there is hope....Someone in the city has the cure and Deja will cut down all in her path in order to find out who it is.
Last edited by GoddessBri on Tue May 19, 2015 9:52 pm; edited 6 times in total (Reason for editing : The Tragic Queen)